Before you think I did nothing but drink wine and eat burritos while in California on my last visit, I wanted to share some more training-related experiences. After the Vicious Dog 15-Miler, I did a few short-to-medium distance runs leading up to an 18-miler the following weekend. I was at a hotel in West Hollywood for work that happene to be right on the marathon course. It was perfect. I planned to cover 9 or so miles of the course, some in the correct direction and some opposite, as two out and backs.
I got a late start and was feeling less than ideal, but it started out well. As I ran down the hill just out of the hotel I came across this big mural with a little nod to the race.
Next up was Beverly Hills. This part of the course on Santa Monica Boulevard was either dead flat or slightly downhill and quite fun.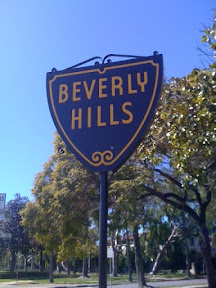 A couple turns later and I was on the famous Rodeo Drive, dressed a little beneath the standards required to shop there.
When I hit the freeway I decided to turn around and run off-course in Beverly Hills. The roads were long, wide and flat and the houses were beautiful. What better way to explore than on foot. I just love how polite they are in nice neighborhoods.
Instead of tracing my course back, I decided to stay on Rodeo Drive and explore the residential part well past the fancy shopping. It was uphill and challenging, but fun. I took it all the way back to Sunset and looped back to the hotel. From there I backtracked the course through Hollywood and was abruptly stopped when I hit the Kodak Theater... It was Oscars Sunday. I lingered for a bit to see what I could see, then turned around and headed back.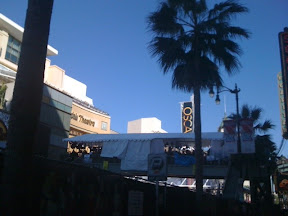 This run went pretty well considering how I felt, but I totally ran out of steam about 13 miles in. I was dragging by 15. My fueling was poor, I barely slept and my legs felt like bricks. I stopped and sat down at one point, a sure sign you have reached a limit. I thought about quitting, but then thought about the 20 miles I'd be running just 5 days later and pressed on. I've never been more happy to finish a run in my life.
My leg survived run and I wasn't in terrible pain the next day so I considered it a success. Back in New York time passed by in a flash. I did my 20 mile run and it wasn't awful, but the next few days were. I hobbled through some shorter distances and then did a final run of 10 miles last weekend. It was the first time I hit a sub-9 pace in over a month. I cried.
I'm on the plane to LA now, somewhere high over the center of the country. I have mixed feelings about this race. Even though I signed up 100% for fun I'm not sure how running undertrained with an extra 5 pounds and a bum groin will be. My former goal was under 4 hours so I think now 4:15 or less is realistic. Anything to earn my post-race feast at In-N-Out Burger!